Welcome to Rahul Foundation
The Rahul Foundation, established by R.N Majumder an enlightened industrialist, is a registered trust committed to provide quality higher education. It is geared to meet the challenges thrown up by the globalization. The opening up of the economy has ushered in a paradigm shift in the industrial and service sectors, calling for corresponding changes in the academics, specially in engineering, management and technical education.The courses offered by the institutes run by the foundation have been designed and structured in tune with present market needs. Its multi-disciplinary approach, constant interface with the industry and networking contribute to the overall development of the students.
Vision
To upgrade to a world class knowledge campus, striving for academic and professional excellence in every sphere and stages of education, research and development starting from K.G. to PG. imparting the latest curriculum and know how to serve the industry, society and nation by meeting up the technological challenges in this fast-changing corporate world in the wake of globalized economy.
The Foundation has progressively,since its inception in the year 2002, setup higher educational institutions in an integrated and modern campus at Durgapur. The essence of the academic environment is its dedicated faculty, high quality educational infrastructure and student fraternity, chosen on the basis of academic merit alone. At present Rahul Foundation runs six institutes, with state-of-the-art infrastructure and facilities which include well equipped libraries, modern laboratories and workshops, sophisticated computers centers with round-the-clock internet connectivity, well planed and modern hostels for boys and girls, spacious canteens, modern gymnasium, health club among other things.
Mission
• To create and sustain an academic environment conducive to academic and professional excellence
• To foster enterprising spirit among the students so that education shows them the enlightened path for their future.
• To create a technology savvy campus and to impart value based education
• To bring forth holistic education with a view of grooming students with well informed balanced views and opinion to expose them to a broader international arena.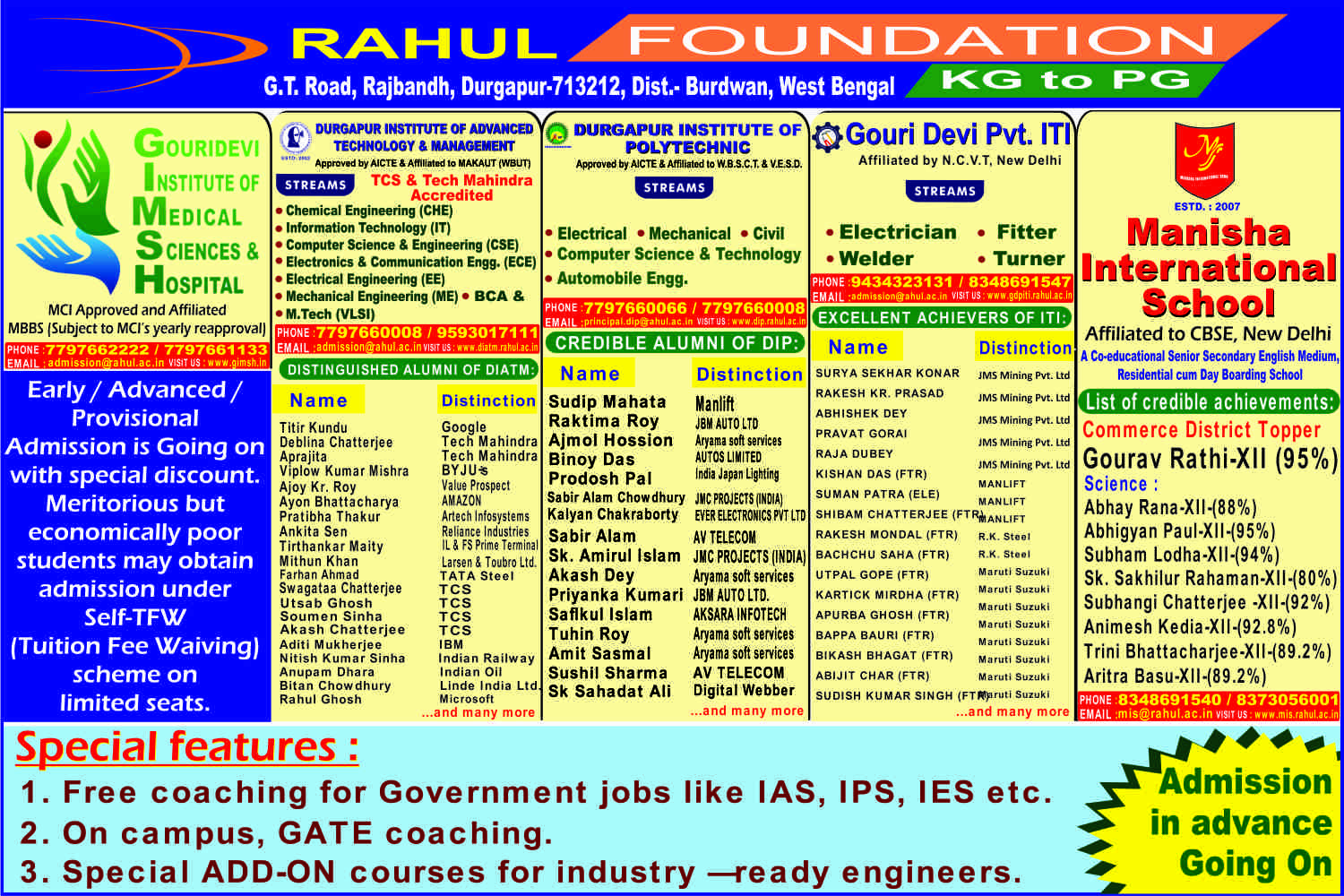 Urgently Required : Marketing Executive and Marketing Manager for West Bengal , Jharkhand and Bihar area.
Preferable & Job experience in education sector.
Contact No: 9593017111 / 7797661133
-: CONTACT DETAILS :-
CAMPUS
G T Road, Rajbandh
Durgapur 713212
Tel : 0343-2520712/713
Fax : 0343-2520881
ccdesk@rahul.ac.in
CITY OFFICE
21, Princep Street (1st Floor)
Kolkata
West Bengal-700072
Tel :033-22258326